Traditionally, all aspects of Okinawa's arts and crafts were cultivated primarily for the personal and political needs of the nobility. Due to the desire of the upper class to distinguish oneself through court attire and wardrobe detail, textile production emerged. Defined as "the weaving or embellishment of cloth." Woven textiles were mainly used as tributary gifts to China and mainland Japan. Strict requirements and high standards were placed on the women that produced the textiles, demanding quantity and quality. This expectation resulted in "enduring international recognition of Okinawan textiles" (Okinawan 50).
Okinawa's woven textiles are divided into two main categories: hira ori, or plain weave and mon ori, pattern weaving. A plain weave will have stripes and ichiri, a design or pattern tied in specific locations and immersed in dye, but will not have muji, or a woven design. Mon ori included woven patterns into the piece (Okinawan 50-51)
Click picture to view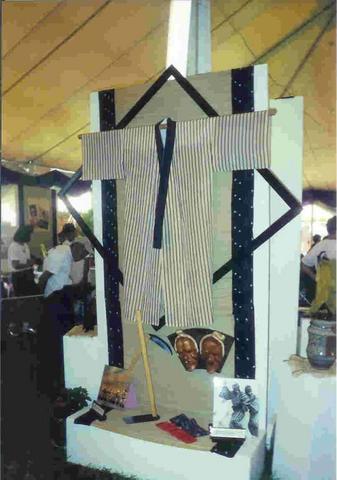 Kimono On Display At 22nd Annual Okinawan Festival
Somemono, or dyed works, is another form of Okinawan textile production. It is the process of applying dyes or pigments to undyed, finished cloth. There are three categories of somemono; katachiki, nuifichi or tsutsubichi and mujisumi. The most common methods are katachiki and nuifichi or tsutsubichi (Okinawan 50-51).
Katachiki is the use of stenciling. A special rice paper is treated with persimmon tannin, after cutting this rice paper is used as the stencil. Fine silk netting is adhered to the stencil and then the fabric, which protects the areas that are not to be dyed. Nuifichi or tsutsubichi, is a pasty mixture of cooked rice flour and rice bran, placed into a baker's decorator tube like bag, with either a bamboo or metal tip. The mixture is squeezed out of the bag onto the fabric into a freehand design. With the use of brushes and dyes, accents are applied. The finished piece is coated with rice paste and is later placed in an indigo dye vat or brushed over (Okinawan 50-51).